Academics informing action: How do you get your research off the shelf and into the hands of decision-makers?
20 July 2020
Researchers around the globe churn out thousands of published, peer-reviewed articles each year, often uncovering nuances about the world and innovations for life within it. Yet many of these findings never reach the desks of the people who could do something with it—be they business executives, government policy makers, or civil society leaders. There is a big disconnect between science-based researchers and on-the-ground decision-makers, resulting in a missed opportunity for better informed decisions.  Furthering the problem, most researchers lack incentives to conduct research relevant to decision-makers. With that in mind, we ask:
How can academic researchers ensure that their outcomes are communicated and disseminated in a manner that reaches decision-makers and "do-ers" to effect real change?
At Meridian Institute, we are connecting researchers and practitioners—companies, producers, and the people who support them—to design and share research to address this gap. The Supply Chain Sustainability Research Fund supports research and dialogue to inform action that strengthens the sustainability of the food you eat and the clothes you wear.
Interested in how research can be better applied? Below are some key insights from the Research Fund: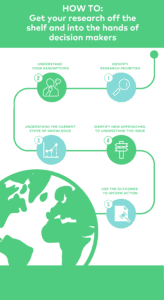 Have you found that your research just sits on a shelf and never seems to have a real-world application? Or perhaps you would like more accessible science-driven research to inform your work. The insights and process outlined above, while described in the context of supply chain sustainability, could serve as a template for effective research and ultimately bridge the gap between research and application.
2020 Supply Chain Sustainability Research and Learning Symposium
Check out the new research findings and action-oriented insights generated at the Symposium.