Braving the Storm: Economic Development Strategies for Coastal Resilience
30 November 2020
On August 27, 2020, Hurricane Laura made landfall on Louisiana's coast with sustained winds of 150 miles per hour, making it one of the strongest storms to ever hit the United States. Destroying homes, businesses, and public infrastructure and robbing residents of power and electricity, this destructive hurricane was only one of many storms to hit the state this year: in total, the 2020 hurricane season logged 30 named storms, the most in a single year on record.
Louisiana now must manage double crises—a global pandemic and the aftermath of an unprecedented hurricane season—just as an economic downturn has left state and local budgets across the country sparse. To support economic development in Louisiana's rural coastal parishes, Meridian spent two years building a strategy for a traditionally under-supported, but culturally critical industry along the Gulf Coast: Louisiana's coastal seafood industry.
Significant to Louisianans both culturally and materially, this industry represents a valued way of life and generates about $1.2 billion for the state economy annually. However, the industry has struggled to survive devastating hurricanes, adapt to supply chain disruptions and reduced demand for seafood caused by COVID-19, and compete against increasing volumes of inexpensive foreign seafood imports. In addition to all this, the industry faces an uncertain future along Louisiana's eroding coastline.
Louisiana as a whole, as well as its coastal parishes, exhibits higher levels of poverty and lower educational attainment than the national average, emphasizing the importance of rural economic development initiatives and investments in the seafood industry that expand job opportunities in the region.
Excerpt from our Collaborative Economic Development Strategy for Louisiana's Coastal Seafood Industry
Through six visits to coastal Louisiana and countless virtual conversations, we connected with over 50 organizations and 100 stakeholders in the state's seafood industry to understand challenges and needs for coastal commercial fishermen and businesses throughout the value chain. We traveled across the state to engage with the seafood businesses, learn about their challenges firsthand, and reflect on the meaning of resilience in the coastal industry. The resulting economic development strategy for the industry is grounded in this collaborative research approach.
Our final economic development plan focuses on three areas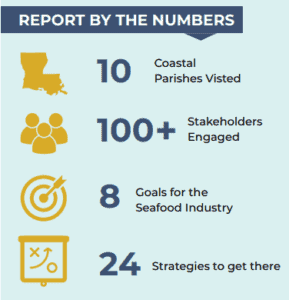 — Engagement, Planning, and Resources; Marketing, Branding, and Innovation; and Workforce and Infrastructure. Within these focus areas, recommendations include everything from partnering with community colleges to develop employment pathways for young people to enter the seafood industry, to convening a statewide forum on topics of importance to the future of the industry—all aiming to improve the industry's market position, stimulate innovation, ensure a stable workforce, and improve transportation and distribution networks.
Ultimately, the economic and environmental issues facing Louisiana's coastal seafood industry today are not unique to Louisiana. Urbanization, fiscal downturns from COVID-19, sea level rise, and more frequent natural disasters mean that rural coastal communities across the country are more vulnerable than ever. The principles of our plan—such as supporting the coastal seafood industry's engagement in decision-making, strategic planning for the future, and improving access to resources—can revitalize working waterfronts across the United States.
Read the Report
Check out our comprehensive strategy to catalyze economic development in Louisiana's coastal seafood industry.