Celebrating the life and leadership of Professor Sir Gordon Conway
7 September 2023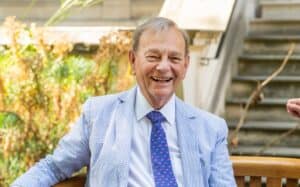 It is with deep sadness that we share the passing of Professor Sir Gordon Conway, an extraordinary leader and cherished member of the Meridian family. Gordon passed this past July at the age of 85. Gordon served as a member of our Board of Directors, including a term as Board Chair. We feel the lasting impact he left on our organization, contributing to both the direction and success of Meridian. His unparalleled dedication and commitment were instrumental in shaping our organization's growth and driving us toward new horizons.  
Gordon was a world leader in international development and one of the world's foremost experts on food security and sustainable agriculture. Gordon's career accomplishments and varied, prominent posts – spanning academia, government, and philanthropic – speak for themselves. Gordon trained in agricultural ecology, attending the University of Wales (Bangor), the University of Cambridge, and the University of the West Indies (Trinidad) before completing a PhD at the University of California (Davis). During the early 1960s, he established himself as one of the pioneers of sustainable agriculture, and, in the decades following, lived across Asia and the Middle East working for the Ford Foundation, World Bank, and USAID. He was also appointed Vice-Chancellor of the University of Sussex and Chair of the Institute of Development Studies.  
Gordon was President of the Rockefeller Foundation from 1998 to 2004. During his tenure, he focused on promoting agricultural research and development to address global food security issues, particularly in developing countries. From 2004 to 2009, he was both Chief Scientific Adviser to the Department for International Development (now FCDO), and President of the Royal Geographical Society. Gordon also served as Professor of International Development at Imperial College, London. 
Gordon's significant contributions were not without recognition. In 2004, he was elected a Fellow of the Royal Society – a Fellowship of many of the world's most eminent scientists and oldest scientific academy in continuous existence. In 2007, he became an Honorary Fellow of the Royal Academy of Engineering. The Royal Geographical Society awarded Gordon with the Founder's Medal in 2017, one of its Royal Medals approved by Queen Elizabeth, with past recipients including Sir David Attenborough. He was awarded the medal for the enhancement and promotion of agricultural development in Asia and Africa. In 2005, he became "Sir" Gordon – knighted by Queen Elizabeth as a Knight Commander of the Order of Saint Michael and Saint George. Originally bestowed only upon those in high positions in the Mediterranean, the Order of St. Michael and St. George now recognizes service in a foreign country, or in relation to foreign and Commonwealth affairs.  
Despite Gordon's involvement and embeddedness in environmental and security problems around the world, he remained an optimist: "I've been in the development business all my adult life," he told The Guardian in 2005. "…I know there are answers. The world is very slow to respond but, in time, we usually put the answers in place." 
From our Meridian community, including those of us who knew Gordon personally and felt his impact directly, we share our deepest condolences to his family and loved ones. Acknowledging this incredible loss to our community, let us first and foremost celebrate the life and legacy of an incredible man.