Exploring Religious Connections to the Natural World
3 June 2022
What motivates your environmental convictions?
Some people have been inspired to protect nature from their experiences in the great outdoors. Others are driven to improve the air and water quality they experience daily. Many are worried about the impacts of climate change and compelled to live sustainably for future generations.
Embedded in many of our individual motivations are the communities that shape us: the people we work with, live with, socialize with, and for some, pray with. While not a universal motivator, religion plays an important role in the lives of billions across the globe and shapes not only beliefs and traditions, but also creates a lens through which to experience the world.
Each religion has a unique connection to our shared natural world, inspiring diverse narratives and forms of faith-based environmental activism. As part of Meridian's focus on Justice, Equity, Diversity, and Inclusion (JEDI), we explored this complex intersection of religion and environment by inviting four panelists representing some of the world's largest religious groups – Judaism, Christianity, Hinduism, and Islam – to share their perspectives with our staff. These leaders in faith-based environmental activism and interfaith collaboration included:
Meridian's Religion & Environment event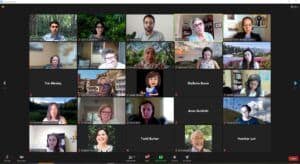 Each panelist shared their personal journey and the challenges and opportunities they see in engaging religious communities about the environment.
---
What led you to engage in religious environmental activism?
Nana Firman, Greenfaith: The first time I learned about our human ecological footprint, I wept. I questioned, "Why would we destroy our own home, this Earth?" Then I realized it was a result of our own behavior and habits. If we look at the data, in the last 50-70 years, humanity's demand on nature has exceeded our earth's capacity to reproduce and replenish; we are currently in debt to the future generations based on the way we run our lives today. In my own Islamic tradition, God identified nature as a tapestry of signs for humans to reflect on His existence. Growing up Muslim, I was taught by my father that nature is also called "ayah," in Arabic which means "signs of God in nature," as well as "verses" or "scripture" of the Holy Qur'an. I grew up with the understanding that if you are to respect the word of God in scripture, you must also respect the signs of God in nature. This is what motivates me in my environmental advocacy, especially today in terms of species extinction due to the climate crisis and seeing human behavior and greed as driving them.
How have themes of environmental protection and stewardship showed up in your religious community, throughout history and today?
Gopal Patel, Bhumi Global: In the Hindu tradition, the word "tree-hugger" came from a sect in India hundreds of years ago—from a group who literally protected trees by hugging them before they were to be cut down. And Hinduism has this idea, this principle, in a Sanskrit word that means "equal vision," where we recognize spiritual equality wherever we see it; we see that human life is as worthy as the life of trees or animals. From a spiritual sense, there is life across all. There is a story of Lord Rama, a major deity in Hinduism, who fights a war and has an army of monkeys, spiders, and more. In the story, the monkeys are laughing at the spiders, belittling their abilities. And Rama stops them and says, "Everyone has their contributions. Everyone can do according to their capacity." And that is the mentality in Hinduism—everyone has different skills and contexts—but everyone has to do what they can.
As a leader within your religious community, how do you navigate conflicting opinions on the place of religion when advocating for the environment?
Joelle Novey, Interfaith Power and Light DMV: Not absolutely everyone sees it as an "of course" that religion and the environment are intertwined. But the way we're trying to connect them is not a big stretch—faith communities concern themselves with moral issues, and there really couldn't be a more basic moral question than how our actions affect our neighbors, species, and the natural world. I often find that people doing this work in congregations have deeply religious motivations—but they don't spell them out in a theological way. For example, a congregation in Massachusetts tried to put solar panels on their church, but they couldn't because of town code—so they sued the town because they said the code violated their freedom of religion. Putting up solar panels was an expression of their faith!
How do you engage with individuals who either believe that religious considerations should not be a part of environmental decision-making or that humans were given dominion over nature and thus should not hesitate to extract natural resources?
Beth Norcross, The Center for Spirituality in Nature: While the conflict about dominion is still present, I don't hear as much about it as I used to. Most Christian denominations now have some kind of engagement in environmental issues. The challenge is one of priorities—the Earth often gets slipped behind more seemingly pressing issues. And to that, I'd say it's essential that religious communities come to understand that our human future is very much at stake. Our significant human overreach that caused the mess we're in is at its heart a spiritual problem and should be approached as such. How do we engage with religious communities to get these points across? In my experience, the key to communicating this message is finding messengers within religious communities whom members trust and understand. For some, it will mean going back to foundational religious documents and traditions to find information and inspiration. But this cannot be just an intellectual exercise. We need to engage all emotions—fear and anger, perhaps guilt and shame, but also love, joy, wonder, and hope. Let's remember that we can look to nature itself as inspiration for resilience, adaptation, and transformation.
---
As our four panelists illuminated, the intersections between religion and environment are both compelling and complex. With over 80% of the global population identifying with a religious group, these are key constituencies for climate and environmental education and action. And while religion is just one aspect of our identities and experiences, Meridian staff are committed to understanding the nuances that make each of us who we are, uplifting diverse perspectives, and collaborating on solutions that move us all forward. To read more about the inspiring work of our panelists and the organizations they serve, we invite you to learn more here.