Impact in Action: Funding Colorado Parks and Wildlife
25 August 2021
Colorado, like many states across the country, is facing a conundrum in managing its public lands: it is seeking to expand equitable access to the outdoors by removing barriers like cost, while also adequately funding the agencies that manage them. With a record number of people venturing outdoors during the pandemic, public lands have become even more resource-constrained, while access to nature and the outdoors became more critical than ever for supporting mental and physical health benefits.
In Colorado alone, state park usage increased by nearly 23% in 2020—bringing questions of resource allocation to the forefront. Fortunately, Colorado Parks and Wildlife (CPW), the state agency charged with conservation, outdoor recreation, and wildlife management, has been seeking out solutions well before this most recent uptick in demand.
In 2018, CPW enlisted Meridian to research and develop a report outlining opportunities to ensure CPW would have the long-term, stable funding needed to steward the state's wildlife and natural resources and support its ever-growing population of outdoor enthusiasts and visitors. Our focus was on producing a decision-oriented summary of funding ideas such as taxes, fees, and incentivized voluntary contributions.
Implementing Our Recommendations
In the 2021 legislative session, Colorado policymakers implemented one of the funding ideas from our report. The Keep Colorado Wild bill makes it easy for Coloradans to purchase an optional, discounted parks pass when registering their vehicle. By 2023, Colorado residents will be able to purchase a reduced-cost state parks pass for less than $40/year with their vehicle registration. Incorporating this optional pass purchase into vehicle registration is an innovative funding model, as it represents a win-win in maximizing both access and funding: Colorado can reduce the cost of a state parks pass and still collect more revenue because more state park passes will be sold.
The bill is complemented by another game-changer for outdoor access in Colorado: The Outdoor Equity Fund (HB21-1318), which commits lottery dollars to grants that support equitable access to outdoor opportunities. Colorado is the second state to put in place an Outdoor Equity Fund, inspired by a similar program in New Mexico. Meridian's Youth Outdoor Policy Partnership highlighted this and other innovative policy ideas that bring the benefits of time spent outdoors to more young people.
We are proud and hopeful to see the Colorado government taking steps to ensure both the longevity of public lands and more equitable access to our outdoor spaces.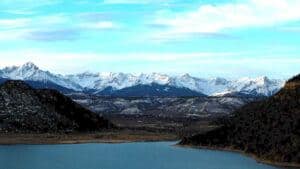 Learn More
Read about the process we undertook to develop the Colorado Parks and Wildlife Future Funding Study—and dive into the report to check out further recommendations!