Leading at the Edge – A Roadmap to Advance Edge of Field Practices in Agriculture
12 February 2021
U.S. agriculture is undergoing a transformation.
The soil health movement has revolutionized our understanding about the connections between farming practices, productivity, and environmental impacts. Farmers, ranchers, and researchers across the United States are working alongside local, state, and federal policymakers and other partners from the agricultural sector to expand in-field conservation practices such as cover cropping, no-till, and nutrient management—with impressive results. These in-field conservation practices are a critical part of improving environmental outcomes on working lands, but they miss a crucial part of the agricultural landscape. The "edges" are also critically important in creating wildlife habitat, maintaining water quality, and improving water infiltration and water quantity. These edges represent a crucial, but underutilized, conservation opportunity for agriculture.
A sector-wide commitment is needed to take action that brings us closer to an integrated, whole-farm, landscape-based approach to working lands conservation.
To work toward a more integrated approach to working lands conservation, Meridian supported The Nature Conservancy and the Soil and Water Conservation Society to convene 26 partner experts, including senior leaders from agriculture, the supply chain, and civil organizations, as well as former government officials, to develop a Roadmap to advance Edge of Field (EoF) practices in agriculture. The work was supported by the Walmart Foundation.
Over the course of six months in 2020, the convening organizations and partners analyzed the current state of the science underpinning EoF practices, reviewed the current policies and programs in place, and developed a shared understanding of efforts underway that both encourage and discourage EoF practice adoption.

Building upon this knowledge base, the partners engaged in an iterative process to brainstorm and refine ideas for transformative change. As the Roadmap facilitator, Meridian synthesized the ideas into a framework for action, including nine recommendations that comprise the EoF Roadmap. The Roadmap presents a cohesive set of recommendations to promote EoF practice adoption at scale, significantly reduce agricultural nutrient loss, and improve water quality downstream.
The Roadmap is a collective call to action for conservation groups, policymakers, farmers, farm organizations, supply chain companies, and other agricultural stakeholders. Greater collaboration between agriculture stakeholders and a clear process for advancing adoption of practices will lead to greater sharing of EoF information, resources, and success; increased partnerships; and coordinated action. We invite you to dive deeper into the Roadmap and learn about the science, policy, and market opportunities identified. Then, join the movement to transform our agricultural landscapes—both in-field and on the leading edge of agriculture.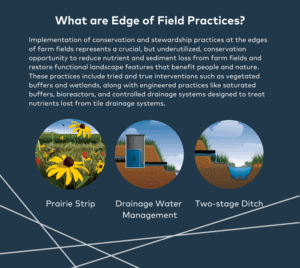 Read the Report
Dive deeper into the Roadmap and join the movement to transform our agricultural landscapes!