On the Ground at COP26
6 December 2021
Each year, the United Nations Climate Change Conference brings together stakeholders from around the world to accelerate action on climate change—from negotiators and politicians to business leaders and climate activists. With last year's conference postponed due to COVID-19 and the climate crisis looming ever larger, eyes around the world were on this year's proceedings.
With the conference taking place in early November in Glasgow, Scotland, Meridian had not only eyes on the action, but feet on the ground. From leading events on equitable agricultural transformations to presenting on high quality carbon credits, learn more about a few of the initiatives Meridian supported throughout COP26 below.
---
Just Rural Transition: Meridian serves as the Secretariat for the Just Rural Transition (JRT), an initiative that brings together food producers, governments, businesses, investors, civil society, and rural and indigenous peoples to champion equitable solutions to food systems challenges. The JRT team was involved in multiple events throughout COP26, including providing support for a UK Presidency event on Nature Day, where 16 countries across 6 continents and 16 non-state actor organizations pledged their support for the Policy Action Agenda for a Just Transition to Sustainable Food and Agriculture.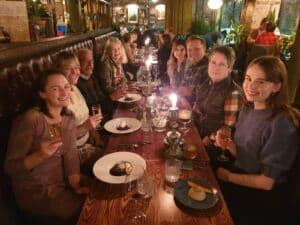 New York Declaration on Forests Global Platform: The New York Declaration on Forests Global Platform, for which Meridian shares the Secretariat role, hosted a virtual COP26 event at the Global Landscapes Forum Climate conference titled "Forests, Food, Finance: Frontiers of Change." This event—NYDF: A Renewed Call to Action—was structured to address the urgent call for action on forest commitments and progress towards the NYDF goals. Panelists included government actors from Indonesia, Costa Rica, and the European Union, a representative from Lavazza (an Italian coffee company committing to building a deforestation-free supply chain), youth activist Oluwaseun Adekugbe, and Indigenous leader Grace Balawag.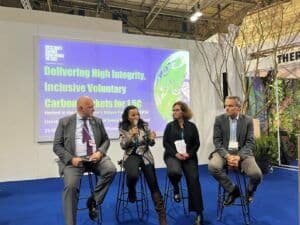 Voluntary Carbon Market Initiative: The Voluntary Carbon Market Initiative (VCMI) is a multi-stakeholder platform to drive credible, net-zero aligned participation in voluntary carbon markets. With its secretariat housed at Meridian, VCMI launched its "Roadmap: Ensuring High Integrity Voluntary Carbon Markets" at COP26, and VCMI members were featured on a variety of events throughout the conference. Among others, VCMI Co-Chair Tariye Gbadegesin discussed channeling high integrity finance to protecting and restoring nature at the COP26 World Leaders Summit, and VCMI Steering Committee member Manuel Pulgar Vidal hosted the Delivering High-Integrity, Inclusive Voluntary Carbon Markets for 1.5 event.
Hindou Oumarou Ibrahim's speech at COP26: Indigenous activist and Meridian Board of Directors member Hindou Oumarou Ibrahim shared remarks on centering Indigenous leadership, respecting Indigenous rights, and working as equal partners in the fight against climate change—at COP26 and beyond. Watch her impassioned speech below:
---
We left COP26 inspired by what did happen—but also astutely aware of what did not. The conference represented an important juncture for initiatives at Meridian and around the world, and we look forward to building on momentum and urgency, amplifying community-led solutions, and continuing to move forward as a global community for our one shared planet.