High-Quality Blue Carbon: Developing Guidance for an Emergent Carbon Market
20 January 2023
The triple benefit of blue carbon 
Coastal ecosystems, which include mangrove forests, seagrass meadows, and tidal marshes, are increasingly recognized as a critical nature-based solution for mitigating climate change. The carbon that is captured from the atmosphere by these ecosystems is referred to as "blue carbon". As blue carbon investments gain attention in the voluntary carbon market, it is essential to ensure that projects and credits not only deliver carbon capture benefits, but support costal ecosystems and the communities that rely on them.
Blue carbon ecosystems currently provide a host of benefits and services for people, nature, and climate:
People:

Blue carbon ecosystems are integral to local fishing operations, including subsistence fishing, small-scale fisheries that support local livelihoods, and commercial operations that address global sustenance needs. They also offer resiliency benefits by mitigating coastal storm damages, with economic analyses estimating that mangroves reduce global costs associated with flooding damage by

USD $65 billion, annually

.

Additional livelihood benefits provided by blue carbon ecosystems include water filtration, shoreline stabilization, recreation, tourism, and cultural value.

 

Nature:

Marine life is heavily reliant on the food, shelter, and habitat that blue carbon ecosystems provide. Mangroves offer an important breeding ground for marine life, supporting 80%

of global fish populations.

Seagrasses

also sustain aquatic biodiversity, and

tidal marshes

provide a home for shellfish populations in addition to a variety of bird species.

 

Climate:

Blue carbon ecosystems regulate our climate by sequestering and storing carbon, and projects that conserve and restore these habitats are vital to achieving global climate targets. Global mangrove forests sequester about

32 million tons of carbon per year and are estimated to hold 4.2 billion tons 

of carbon.

 
Although blue carbon habitats offer invaluable carbon sequestration and storage opportunities, maintain ecosystem integrity, and sustain local livelihoods, they also experience significant conversion and degradation. To date, an estimated 67% of all mangroves have been destroyed by human interventions.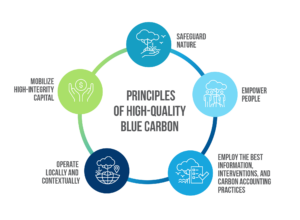 Developing guidance for blue carbon projects and credits
Meridian Institute, in partnership with Salesforce, World Economic Forum's Friends of Ocean Action, Ocean Risk Resilience Action Alliance, Conservation International, and The Nature Conservancy, has developed the High-Quality Blue Carbon Principles and Guidance: A triple-benefit investment for people, nature, and climate. This guidance resource is the product of a collaborative and open process. It distills existing knowledge and best practices and clarifies how various stakeholders in the nascent blue carbon market can achieve high-quality projects and credits.  
Gathering extensive input from a diverse range of perspectives was a priority for Meridian and its partnering organizations in developing the High-Quality Blue Carbon Principles and Guidance. In addition to informational interviews, we hosted three consultation events in 2022: one workshop at the UN Oceans Conference in Lisbon, Portugal, and two virtual roundtable conversations that convened blue carbon investors and key project developers. Our overall consultation process engaged more than 70 organizations via interviews, feedback form responses, interactive workshops, and roundtable conversations. 
Discussions with project developers and investors clarified the aspects of blue carbon projects and credits that are still unclear and require additional guidance to ensure positive outcomes for people, nature, and climate. Moreover, perspectives from experts in the field and people on the ground defined characteristics of high-quality blue carbon projects and credits, as well as the actions required to achieve those criteria. 
The High-Quality Blue Carbon Principles and Guidance provides foundational information for new and incumbent stakeholders in the blue carbon market. Meridian and its collaborators are excited to continue working towards a market for blue carbon that prioritizes high-integrity engagement and builds on an emerging shared understanding of what constitutes 'high-quality' blue carbon projects and credits. 
You can learn more about our process, read the full guidance document, and see the organizations supporting this work on the High-Quality Blue Carbon web page. 
High-Quality Blue Carbon Principles and Guidance
A triple-benefit investment for people, nature, and climate