Meridian Takes #ClimateWeekNYC
4 October 2019
Last week, Meridian traveled to the Big Apple for #ClimateWeekNYC. Leaders from across the globe came together to drive progress on critical climate issues around the UN General Assembly and the UN Secretary General's Climate Action Summit. It was an inspiring, busy, and thought-provoking week: over the course of five days, 13 Meridian staff brought together hundreds of people at over a dozen events and workshops. Read on for our reflections!
Business as usual is not enough
"It was refreshing to hear a clear statement that business as usual won't get us where we need to go, particularly when it comes to ending deforestation worldwide," my colleague Seth Blum reflected following a workshop Meridian organized on strategies to accelerate the fight against commodity-driven deforestation over the next decade.
Deforestation driven by commodities such as palm oil, beef, and soy accounts for about one-quarter of global tree cover loss.
Across town, we heard a similar call for bold action. On September 23, Meridian convened leaders from government, the private sector, and environmental NGOs to launch two initiatives to transform climate and forest finance. Though protecting forests could move the needle ~30 percent closer to meeting Paris Agreement climate goals, forests currently receive only 3 percent of climate finance. The Emergent Forest Finance Accelerator will help fill this finance gap by matching countries looking to protect their forests with companies seeking to buy carbon offsets. The Architecture for REDD+ Transactions (ART) is a high-integrity standard that will ensure offset trading conducted through Emergent is environmentally and socially responsible. Isabella Soparkar was closely involved in the launch and was excited to hear Norway's Minister of Climate and Environment say that Emergent and ART were two of the most important announcements of Climate Week. Noted Isabella, "I couldn't agree more! ART and Emergent provide a concrete, implementable path to mobilize private finance to protect our forests and climate." Meridian has worked hard for over two and a half years to get these two initiatives off the ground. Congratulations, team!
The "power" of collective action
Almost a billion people across the world lack access to electricity – a challenge taken on by the newly-formed Global Commission to End Energy Poverty. We are proud to have organized the Commission's public launch event during Climate Week (and facilitated a convening of Commissioners in Bellagio, Italy, in early September). Heather Lair, who led the Meridian team supporting the Commission launch, shared, "The Commission's vision is to achieve universal electrification. This is no small feat, but I have been inspired by the rich debate, collaborative spirit, and advocacy that this group of experts and leaders is bringing to this issue."
Collaboration powers more than universal electrification. On the first day of Climate Week, our Meridian crew was all-hands-on-deck at the New York Declaration on Forests (NYDF) five-year anniversary and leadership event. Five years after the signing of the NYDF, endorsers gathered to reflect on the progress and challenges to date in tackling deforestation and restoration and announce emerging solutions to double down on action. At the event, leaders from the Governments of Norway and Gabon signed a major agreement that, among other things, raises the per-ton price of CO2-equivalent avoided from $5 USD to $10 USD. This $150 million deal will support countries in the Central African Forest Initiative – a platform Meridian helped launch four years ago – to reduce emissions, improve land use planning, and protect rainforests. In addition, the Brazilian states of Acre, Amapá, Amazonas, and Mato Grosso signed a joint jurisdictional statement reaffirming their commitments to the conversation and sustainable use of the Amazon, even in the face of federal inaction.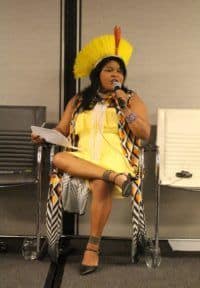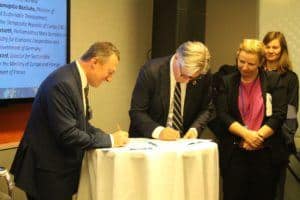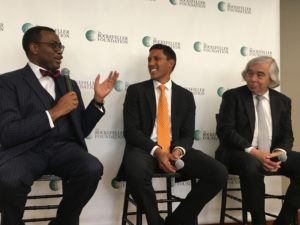 Climate action doesn't have to be green!
"Did you know that ocean solutions could mitigate one-fifth of global greenhouse gas emissions?" my colleague Lena Octavio asked me last week. At Climate Week, the High Level Panel for a Sustainable Ocean Economy launched an innovative analysis to quantify the contribution of ocean-based mitigation strategies to address climate change, with specific proposals for decision-makers and an ambitious call to action. While during the week Meridian focused significantly on land use, agriculture, and forest issues, as Lena highlighted, oceans can also be a critical solution to the climate crisis. Lena found "Oceans Day" at the Climate Hub to be one the most inspiring events of the week. She noted, "Oceans have only relatively recently been included in international climate dialogues, including those occurring this week. While coastal communities and small island nations have been working on these issues for decades, it's exciting to see increased global recognition of how important oceans are to keeping the planet healthy and sustainable." Meridian has collaborated with many of these communities in our longstanding efforts to improve ocean management and preservation. We share Lena's hopes for renewed and sustained global attention on ocean solutions!
Our Focus on Climate
From oceans to clean energy to forests, Meridian is dedicated to tackling the climate crisis every day, not just during Climate Week.