Reflecting on Meridian's Virtual Staff Retreat
9 September 2020
Day in and day out, Meridian staff, Senior Fellows, and Affiliates lead over 100 projects around the world. Our work has only intensified in recent months, as we help our partners collaborate, strategize, and advance critical priorities under unforeseen and challenging circumstances.
Despite—and in response to—these dynamic conditions, we hit pause for a few days in June to hold a virtual all-staff retreat. Through a mix of fun and thoughtful sessions, our dispersed team focused inward, built trust, and most importantly, unpacked challenges facing our global community and our organization.
Re-Affirming the Benefits of a Virtual Retreat
We can confidently call ourselves Zoom experts (1,152,511 meeting minutes on Zoom since March and counting…), and we have designed and facilitated high-quality virtual convenings of all shapes and sizes. But given our team's high standards for virtual meetings, our staff retreat really put our collective skills to the test!
To maintain focus and energy, we developed a balanced agenda. In between intense strategic or reflective sessions, we interspersed skill-building workshops and fun team-building activities. Some workshops had no more than five people, while others brought the full team together in plenary. We deployed interactive digital tools such as Mural and Google Docs to capture insights and boost engagement.
Virtual settings don't have to impede creativity and relationship-building—which we know are necessary for a successful staff retreat! Whether learning Bhangra dance or kick boxing, we left our chairs and our comfort zones and had a lot of laughs. We were fueled by our colleague Liz Duxbury's signature "Dux Boxes"—snacks and arts & crafts materials she mailed to staff members in advance of the retreat.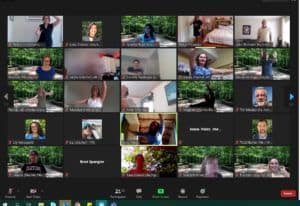 Re-Affirming Our Values and Mission
Over more than 20 years, Meridian staff have developed a reputation as trusted experts who build understanding, guide collaboration, and drive action to address our world's complex challenges. We have worked fastidiously throughout our history to protect our role not as a neutral third party, but as a trusted third party.
Many of the retreat's conversations on the future of the organization focused on this point. We work hard to earn our reputation as a trusted third party. However, we—as individuals, and as an organization—are not neutral about many societal issues including racism, economic disparity, gender and LGBTQ equity, religious freedom, mass incarceration, access to healthcare, climate change, and more. Indeed, these are some of the issues that motivated us to pursue life-long careers as trusted third-party conveners.
The retreat provided an opportunity to revisit and refine our values and discuss how Meridian can—and should—give voice to and address these issues. The retreat was neither the start nor the end of the conversation. Our team is energized to continue exploring all possible avenues to support the societal and organizational change we envision.
Re-Affirming Our Investment in Our Organization
The time required for a staff call, let alone a multi-day retreat, can feel elusive. Yet, I was reminded of how rejuvenating and necessary these opportunities are to an organization's growth and culture. Following the virtual retreat, our team is infused with new energy to tackle tough challenges within Meridian and in the world around us.
Contact Us
Whatever the remainder of 2020 brings, we will continue to support our partners and their work. Please reach out if you need help designing and executing a staff retreat of your own. We are glad to share what we have learned.